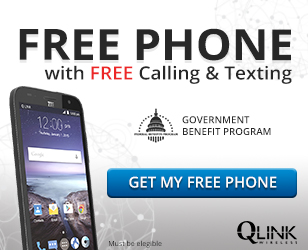 Free Cell Phones for the Needy
Nationwide — Trinity Vision Global has partnered with Q Link Wireless to provide free cell phones to the homeless and low income families.  These free cell phones are provided at no cost to these individuals through the LifeLine program.  Please click on the picture above to start the process.  To qualify, the household must participate in an qualifying aid program or have household income below the poverty line.
You are eligible if you receive benefits from any of these programs in Georgia:
Federal Public Housing Assistance / Section 8
Food Stamps
Low Income Home Energy Assistance Program (LIHEAP)
Medicaid
National School Lunch (free program only)
Senior citizen low-income discount plan offered by the local gas or power company
Supplemental Security Income (SSI)
Temporary Assistance for Needy Families (TANF)
Bureau of Indian Affairs General Assistance
Food Distribution Program on Indian Reservations
Tribally-Administered Temporary Assistance for Needy Families
You are also eligible if your income is at or under 135% of the Federal Poverty Guidelines.  See the chart below to see these calculated levels:
Income Based Eligibility for Georgia
Members in Household
Annual income
Monthly Income
1 member
$15,890
$1,324
2 members
$21,506
$1,792
3 members
$27,122
$2,260
4 members
$32,738
$2,728
5 members
$38,354
$3,196
6 members
$43,970
$3,664
7 members
$48,586
$4,049
8 members
$55,202
$4,600
For each additional member add $5,516 annual or $468 monthly
If you reside in another state, please visit the Free Government Cell Phones Website to determine the requirements for your state.
About Trinity Vision Global
Trinity Vision Global is dedicated to making a difference locally as well as globally by providing resources and services to individuals, families and to those whom support those citizens and by providing self-management, empowerment skills.