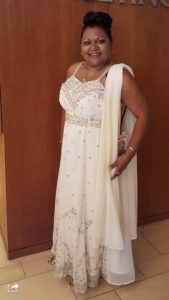 Angie Eugene has been a successful entrepreneur for the past 22 years. She is the Chief Executive Officer of Trinity Vision, a non-profit organization that provides community service by providing clothing, can goods and toiletries to the homeless, as well as coordinates toy drives. She is also Founder of Naturally Enhancing Health, a health and wellness company, which operates an all-natural skin care line and also sells other health products including Alkaline water sticks, coffee, weight loss pills, vaporizer pens, etc.
Her diverse professional background incorporates successfully serving in management positions at restaurant and hospitality companies such as Marriott, Applebee's and Logan's Roadhouse, where her operational expertise and business acumen assisted in increasing the customer base and revenues for these companies. A graduate of the American Intercontinental University in Atlanta, GA., with a Bachelor's degree in Business Management, Angie also attended Macon State College, where she obtained her pre-license certification in Real Estate.
A native of the Caribbean country of Trinidad-Tobago, for which she is considering a run for the key position of Prime Minister, Angie is also a dedicated and committed servant in her Warner Robins, Georgia community, where she resides. She currently serves as Chairwoman of the Warner Robins Chapter of Simply United Together Global, an international community service volunteer organization; treasurer for the local Toastmasters chapter and volunteers for the American Red Cross and Ronald McDonald House.
Angie is also the proud mother of two upwardly mobile young adults, Kevin Eugene, 21, and Angeline Eugene, 19.
Save